Photo Courtesy Let's run.com
Emily Sisson runs 67:11 to break American record at US Half Marathon Championships 
The US Half Marathon Championships were held on Saturday in Indianapolis, and the men's and women's races could not have been more different. The men's race was a four-man battle over the final miles between Leonard Korir, Futsum Zienasellassie, Jacob Thomson, and Reid Buchanan before Korir and Zienasellassie separated on the long final straightaway. Korir ultimately outlasted Zienasellassie, who went to high school in Indiana, to win the title by one second in 62:35. It was Korir's third US Half title (he also won in 2017 and 2019). 
The bigger story came in the women's race. Emily Sisson, the US 10,000m champion, has long targeted the American half marathon record and has come agonizingly close to breaking it in the past.
In Houston in 2019, Sisson ran 67:30 to miss the record by five seconds. In Valencia the next year, she ran 67:26 to miss it by one second. Earlier this year, Sara Hall lowered the record from 67:25 to 67:15, and that was the mark Sisson was targeting on Saturday. 
By 5k (15:54), Sisson had dropped the rest of the women's field, but her next three 5k splits were 16:03, 15:57, and 15:58 – all slower than record pace of 15:56. By the time she hit 20k in 63:52 (67:22 pace), it looked as if her attempt would end in another near-miss. But Sisson summoned a kick and ran her final 1097.5 meters in 3:19 (63:45 pace, 4:51.8 mile pace) to finish in 67:11 (5:07.5 mile pace). 
A few thoughts on Sisson, the record, and the race in Indianapolis. 
Sisson's perseverance over the last two years has been impressive 
Sisson was one of the favorites to make the team at the 2020 Olympic Marathon Trials but the Atlanta course got the best of her and she wound up dropping out. She then rebounded to make the Olympic team in the 10k with a dominant performance at the Trials last June, but was injured ahead of the Olympics (she still finished 10th) and ultimately had to withdraw from the NYC Marathon last fall. She returned with a win at the US 15K champs in March but then got COVID at the end of March and had a less-than-ideal buildup ahead of this race. Sisson said on the broadcast after the race that her plan is to stay on the roads this summer – so no US 10,000 champs at Pre on May 27 – before running a fall marathon. 
This record can still go a lot faster 
After Hall broke the AR in January, one of our quick takes in our post-race piece was "we wouldn't be shocked if this record is broken again soon." Well Hall's record didn't even last four months. And we'll say the same thing again: Sisson's record won't stand for long. 
Consider this. Pre-super shoes, the women's world record in the half was 64:51 (Joyciline Jepkosgei in 2017). Letesenbet Gidey's current WR is 62:52, an improvement of 1:59 (or 3.1%). The pre-super shoes AR was Molly Huddle's 67:25 in 2018, which means Sisson's time is an improvement of just 14 seconds. If you were to apply the same 3.1% improvement to the AR, you'd get 65:22. So there is still some meat on the bone. 
Sisson agrees. After the race, she told Fast Women she had been hoping to go out on mid-66 pace and pick it up from there before she got COVID. If Sisson can get in a perfect race with a perfect training block, she is capable of a whole lot faster. Young talents like Fiona O'Keeffe (67:42 in her half debut in Houston) and Weini Kelati and Alicia Monson (neither of whom have run half marathons yet) could challenge the record in the years to come as well. 
"I feel like all the records are just being borrowed right now, because a lot of American distance runners are about to run a lot faster in the half and the full marathon," Sisson told Fast Women. 
Right now, however, there is a massive gap between what the top Americans are capable of and what the very best in the world can run. Sisson's AR is still almost four-and-a-half minutes slower than Gidey's WR, and even the pace Sisson ran while kicking over the final 1097.5m (63:45) is slower than the pace Gidey ran for the full distance. 
USATF should not allow pacemakers in a national championship 
Two male pacemakers helped Sisson set the AR on Saturday: Eric Ashe, who ran almost six miles with her, and Brian Harvey, who ran the entire way. In this case, it didn't affect the outcome of the race (Sisson won by more than six minutes), but pacemakers have no place in a national championship race. 
USATF dropped the ball on promoting this race 
The US Half Marathon Championships was a big opportunity for USATF. The event – held as part of the OneAmerica 500 Festival Mini-Marathon – was cool, with part of the race being run on the famous Indianapolis Motor Speedway, leading to shots like this: 
But USATF only announced the race would serve as the US Half Champs on March 31 – just five weeks before race day. That's not nearly enough notice for pro athletes who like to plan their schedules months in advance. And unsurprisingly, the USATF championship fields were way smaller than the 2021 champs in Hardeeville, S.C. – just 11 women compared to 40 in '21 and 19 men compared to 49 in '21. (Sisson was 12th in the men's race and was just four seconds away from finishing in the top 10). 
Furthermore, the promotion of the event was almost non-existent – particularly damning because USATF is headquartered in Indianapolis. Multiple Indianapolis-based LetsRun readers said they had no idea the event was happening. 
The timing wasn't ideal either as the race was held only one week before the US 25K champs in Michigan, but we're not going to be too critical of that. Yes, it's silly that USATF holds a 15K, 20K, half marathon, and 25K championship, but if four separate races want to invest in prize purses for American distance runners, that's ultimately a good thing for the sport.
***
Omanyala takes down Kerley in Nairobi while Jacobs is a DNS; SAFP blasts world-leading 10.67 
There were a couple of high-profile 100m withdrawals from Saturday's Kip Keino Classic in Nairobi – a World Athletics Continental Tour Gold meet. There was never any official withdrawal announcement about American Sha'Carri Richardson, but she never made it to Kenya and has now withdrawn from all three of her meets in 2022 without explanation (LRC After Withdrawing from Kip Keino Classic, It's Time to Ask: Where Is Sha'Carri Richardson?). Olympic men's 100 champ Marcell Jacobs did make it to Kenya, but missed the race after being taken to the hospital with a stomach bug (more on him in a minute). 
Nevertheless, the 100m races were the highlight of the meet in Nairobi. Shelly-Ann Fraser-Pryce is now 35 years old, but she's not slowing down as she ran 10.67 in her first 100 of 2022 – the third-fastest time of her career. Altitude does help sprint times, and Kasarani Stadium sits at roughly 5,300 feet. But Fraser-Pryce also ran into a slight headwind (0.4 m/s). Using Jonas Mureika's sprint conversion calculator, her time is worth 10.70 in still conditions at sea level. That's very good for a season opener. 
On the men's side, there was a cool moment as Kenya's Ferdinand Omanyala ran a world-leading 9.85 to defeat American Olympic silver medalist Fred Kerley (9.92) and afterwards went into the stands to celebrate with Kenyan president Uhuru Kenyatta.  
There were also some impressive altitude times in the distance races as World Indoor bronze medalist Abel Kipsang ran 3:31.01 to win the 1500 and Norah Jeruto 9:04.95 to win the steeple. Using the NCAA formula – which is admittedly generous toward athletes born and raised at altitude – those times are worth 3:25.93 and 8:50.06. Full conversions of the winning times in all the distance races appear below.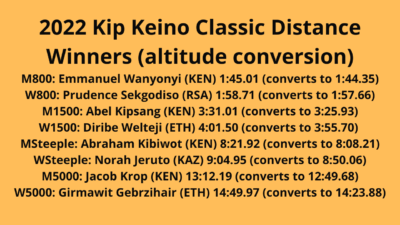 Jeruto, it should be noted, has finally been cleared to compete for Kazakhstan after a number of years in limbo. Even though she was the best steepler in the world last year, Jeruto's transfer of allegiance was still not approved by World Athletics, meaning she has never competed at a global championship. But WA finally gave the go-ahead in January, meaning Jeruto immediately becomes the favorite for gold in Eugene this year. 
Now about Jacobs' withdrawal. In the days since the meet, we've seen some conspiracy theories that the matchup between the Olympic gold and silver medalists Jacobs and Kerley was too good to be true, and how "convenient" it was that one of them happened to scratch just before the race. There is, after all, a long history of the world's top 100m men dodging each other. 
But we totally believe Jacobs' explanation. In 2017, LetsRun visited Kenya and then Uganda for World XC. We were told to drink only bottled water as some Westerners can't always handle the tap water in East Africa. Lo and behold, the night before World XC, LRC's Jonathan Gault ordered a salad at dinner (the greens were washed with tap water) and had horrible stomach problems the next day. It's not hard to imagine Jacobs meeting a similar fate. 
That said, if the Jacobs-Kerley showdowns at Prefontaine (May 28) and the Rome Diamond League (June 9) don't happen, we'll start to become suspicious as well.
###
Don't let the video above you fool you. Did anyone besides us notice the crowds at the meet? The day before the meet, ticketing was made to be free and the attendance still ended up like this: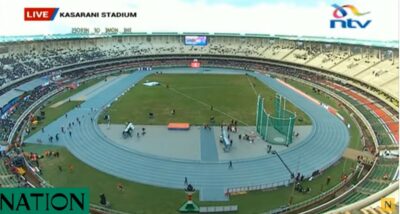 Now, Kasarani Stadium is huge — 60,000 is its capacity — but we've long scoffed when people have told us things along the lines of, "The Kenyans are great as running is super popular over there." Our response has always been, "Have you ever been to Kenya? It's not super popular and football (soccer) is way more popular and they suck at that sport."  Source: Let's Run.com